This New Year's Eve, Make It a Garden Party
Mon Dec 26 2016 | off-topic | misc
Take advantage of the mild southern California evenings this season by hosting a New Year's Eve garden party. With these some simple nighttime decorating tricks you can create the perfect outdoor environment for mingling, munching, and breaking it down on the dance floor.
Before You Start… create a comfortable outdoor space for your guests with heating elements such as portable fire pits and heating lamps. Full, healthy grass helps frame out your party area and walkways, separating yard from garden. Use a hearty, cold-activated variety such as superior fescue sod, which grows thicker and greener during winter months and can hold up to heavy foot traffic, should your guests stray from their designated spot.
Hanging Decor
Most backyards offer plenty of high places, perfect for hanging festive frills such as star garlands, streamers, curled ribbon, and metallic or glittery Christmas bulbs. Use tree branches, decks, outdoor staircases, awnings, or even a backyard tool shed for suspension points. The irregular placement adds intrigue while tying together the existing elements of your backyard.
Floral Pots
Add a touch of elegance to your party with cut flowers of your chosen color theme in decorative pots. If you're using classic colors, for example, you might select white roses in glass bowls adorned with gold foil. Consider dried flowers to fit the season. Scatter flower pots at the edges of your party space or use them as centerpieces for your guest tables.
Re-purposed Christmas Decorations
Make the season last by giving your Christmas decorations a makeover for the backyard. Revive a Christmas tree with metallic tinsel, glittery ornaments, garlands, or other luminous elements. Wrap tree trunks, arches, awning poles, and other vertical structures with Christmas lights or string up Christmas lights with paper lanterns in your chosen color theme. A Christmas wreath can be re-purposed with shiny, funky pieces such as pinwheels.
Creative Outdoor Lighting
You'll need plenty of soft lighting to maintain a festive, relaxed mood and keep your outdoor space visible through the wee hours of the evening. Aside from reusing your Christmas lights, there are plenty of funky ways to bring soft lighting into your backyard. Hang candles in mason jars from tree branches and other high points. Surround walkways and your designated party space with votives or use tiki torches to illuminate the space and help corral your guests.
Archway Designs
Festive archways welcome guests and establish a celebratory mood. Cover yours in balloons of your selected color theme, string lighting, or hang long "hair" tinsel across the archway to add mystique and help guests "make an entrance."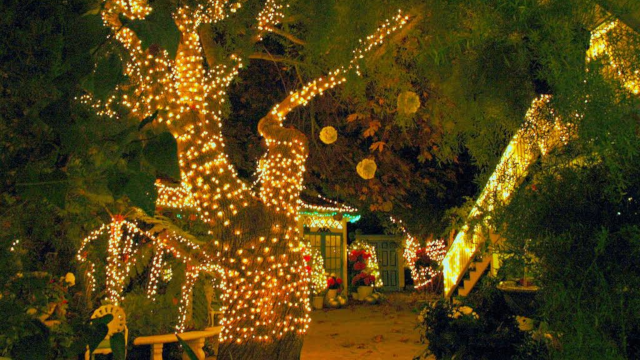 Image: Wonderlane via Flickr